Dental implants
Posted by KARE DENTAL on Sep 18 2019, 12:15 AM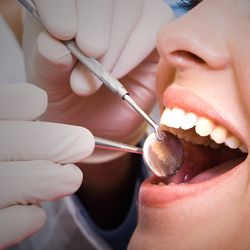 A smile can go a long way in boosting your confidence! At KARE Dental, we believe there is no better time to fix that smile than the present. The loss of a tooth, though is a common problem that can be caused due to a variety of reasons from a root canal that went severely, damage caused by an accident to the loss of even multiple teeth. Apart from the fact that these gaps left behind can look unsightly, if left untreated, it could cascade into a series of negative implications. Dental implants have come to be widely considered a safe and permanent option.

A dental implant is essentially an artificial engineered tooth, whose root is implanted into the jawbone. Once inserted into the jawbone it is capable of supporting one or more teeth. The tooth root implant is a screw made of titanium which is implanted into the bone socket of the missing tooth. Eventually, the jaw bone begins to heal around the metal implant, anchoring and securing it well into the jaw. 
Getting a dental implant is a permanent solution and the healing process can take some time. That involves the implant to unite with the jawbone which can take around 6 months.
A dental implant is a replacement tooth that is customized to match your natural teeth. It is an implant that is meant to fuse with the bone to become permanent. And so it becomes part of you making it comfortable while chewing on food and also gives you back your smile.
Some of its benefits include:
1. Looks natural and is a comfortable fit: Dental implants are designed to look, feel, and function just like your natural teeth. Not only that, implants give you the confidence to smile, eat, and engage in social activities without worrying about how they look or if you fear that the dentures may fall out!
2. Long-lasting and reliable: With proper care and maintenance, implants will last as long as conventional restorations on teeth.
3. High success rate: A well-planned care for dental implants is generally more successful as compared to or better than other teeth replacement options. And, as implant technology and techniques keep improving, so should their success rate. People in good health have the best chance for successful implants.
4. Improves one's ability to eat and chew: Dental implants are anchored inside the jaw bone and look just like natural teeth. Over time they will help preserve the jaw bone and significantly reduce bone resorption. Implants actually allow you to chew your food better and speak more clearly.
5. Improves one's facial and bone features: Dental implants preserve the jaw bone and significantly reduce bone resorption and deterioration that results in loss of jawbone height. Dental implants also help restore your jawbone structure because they reduce the load on the remaining oral structures/teeth and preserve natural tooth tissue and reduce bone resorption and deterioration that results in loss of jawbone height.