Dental Implants Vs. Bridges
Posted by KARE DENTAL on Jan 7 2020, 05:11 AM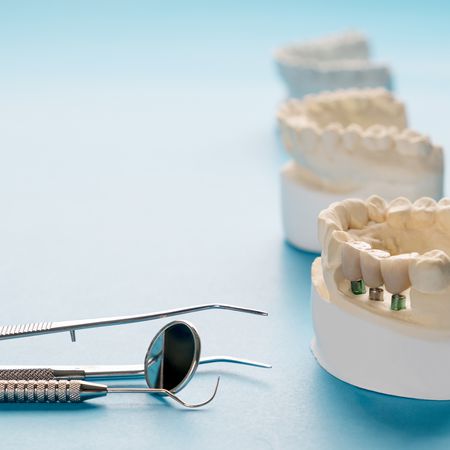 What are dental implants?
Damaged tooth roots can now be easily replaced by using titanium posts known as dental implants. Over time, the new bone grows around the implanted metal. As the dentist declares that the new structure is secure enough, then a crown is screwed on top of the implant and sealed into place. Dental implants can make you feel and look younger, and also ensure that they function just like your natural teeth. Implants are durable if properly maintained. 
How can you get dental implants?
When you visit the dentist to get dental implants, the dentist would place one or more implants into the jaw bone to cover the root of the missing tooth. After placing the implants, it needs time to heal, as during this time, the implant fuses within the bone in a process called "osseointegration." The dentist also takes the impressions or digital scans of the teeth and bite, to create a customized connector post or abutment and a crown. As the dental implant fuses, the customized abutment and crown are attached to it.
What are the advantages of dental implants?
The advantages of dental implants are as follows:
They look like natural teeth and can last over a lifetime.
It has a high success rate.
It maintains the bone structure, preventing additional bone loss.
Due to their strong metal composition, they are resistant to gum problems and dental decay. 
It is easy to clean and floss. 
What is a dental bridge?
Dental bridges are made to bridge the gap that forms between one or more missing teeth. It is made up of two or more crowns that take the support of natural teeth or implants on both sides. 
How can you create a dental bridge?
In order to create a customized bridge, the dentist prepares your teeth and takes impressions and X-rays. As the bridge gets ready, the area to be treated is numbed, then the dentist cements the dental bridge in the area. After placing the bridge, the dentist makes all the necessary adjustments and fits it perfectly.
What are the advantages of dental bridges?
The advantages of dental bridges are as follows:
The procedure is simple and non-surgical.
Getting bridges are less painful. 
You can get a bridge faster than implants. 
A bridge is affordable, and so, it is a pocket-friendly treatment for several patients.
You can chew easily without any discomfort.
You can discuss further with Dr. Trinh and find the right choice for you. You can also call us (650) 260-2600 or schedule an online appointment for a consultation at our office in Redwood City, CA.