Fluoride For Teeth: What are the benefits?
Posted by KARE DENTAL on Dec 17 2019, 12:29 AM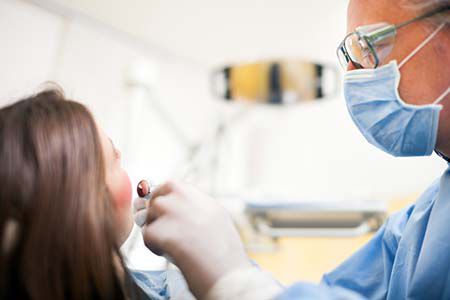 Fluoride is an element that is present naturally in food and drinking water. The presence of fluoride in drinking water is reported to reduce the chances of tooth decay by about 25 percent. 

Treating the enamel with fluoride treatment can benefit teeth by protecting it against plaque and teeth erosion. 
This article specifies the importance and benefits of fluoride for your teeth.
What is fluoride treatment?
Fluoride treatment is often provided during the patient's routine hygiene visits by a professional dental hygienist. It involves applying a high concentration of fluoride paste on the surface of the enamel. This would help improve enamel health and reduce the risk of cavities. The fluoride element that's applied may be in the form of a solution, gel, foam, or even varnish. 
Patients may even undergo fluoride treatment at home in specific cases. 
What are the benefits of fluoride and its treatment?
Fluoride application on teeth is known to have many benefits such as the below:
It allows the body to have the intake of essential minerals such as calcium and phosphate, thereby repairing weak enamel surfaces.
It helps strengthen the enamel making them less vulnerable to decay and dental plaque
Slows down and reverses cavity formation
Prevents the formation of gum disease
Reduces tooth pain
Prevents the chances of dental erosion
What are the benefits of using fluoride toothpaste, mouthwashes, and fluoridated water?
Fluoride toothpaste
Using toothpaste that contains fluoride can help prevent the chances of early cavities in children and adults. It helps build back enamel spots that are weak and protect tooth roots that may be exposed. Dental hygienists and dentists recommend brushing teeth twice a day with a fluoride toothpaste.
Fluoride Mouthwash
Using mouthwashes that contain fluoride is a great way to protect teeth from cavities and dental plaque. 
Consuming Water (Fluoride Element)
Drinking water regularly with the presence of fluoride in them is the simplest way to protect teeth from decay. If the water that you are consuming does not contain adequate fluoride element in them, your dentist would recommend or prescribe you with fluoride tablets, or fluoride drops. Healthy drinks such as fluoridated water can be a great substitution for aerated drinks.
Get to know more about fluoride treatment and its many benefits by requesting an appointment with Dr. Trinh at KARE dental.